What

is business continuity?
Business continuity is the ability of an organization to maintain essential functions during, as well as after, a disaster has occurred. Business continuity planning establishes risk management processes and procedures that aim to prevent interruptions to mission-critical services, and re-establish full function to the organization as quickly and smoothly as possible.
The most basic business continuity requirement is to keep essential functions up and running during a disaster and to recover with as little downtime as possible. A business continuity plan considers various unpredictable events, such as natural disasters, fires, disease outbreaks, cyberattacks and other external threats.
Business continuity is important for organizations of any size, but it may not be practical for any but the largest enterprises to maintain all functions for the duration of a disaster. According to many experts, the first step in business continuity planning is deciding which of an organization's functions are essential and allocating the available budget accordingly. Once crucial components have been identified, failover mechanisms can be put in place.
Types of failover mechanisms
Technologies such as disk mirroring allow an organization to maintain up-to-date copies of data in geographically dispersed locations. This enables data access to continue uninterrupted if one location is disabled.
Business continuity vs. disaster recovery
Similar to a business continuity plan, disaster recovery planning specifies an organization's planned strategies for post-failure procedures. However, a disaster recovery plan is just a subset of business continuity planning.
Disaster recovery is mainly data focused, concentrating on storing data in a way that can be more easily accessed following a disaster. Business continuity takes this into account, but also focuses on the risk management, oversight and planning an organization needs to stay operational during a disruption.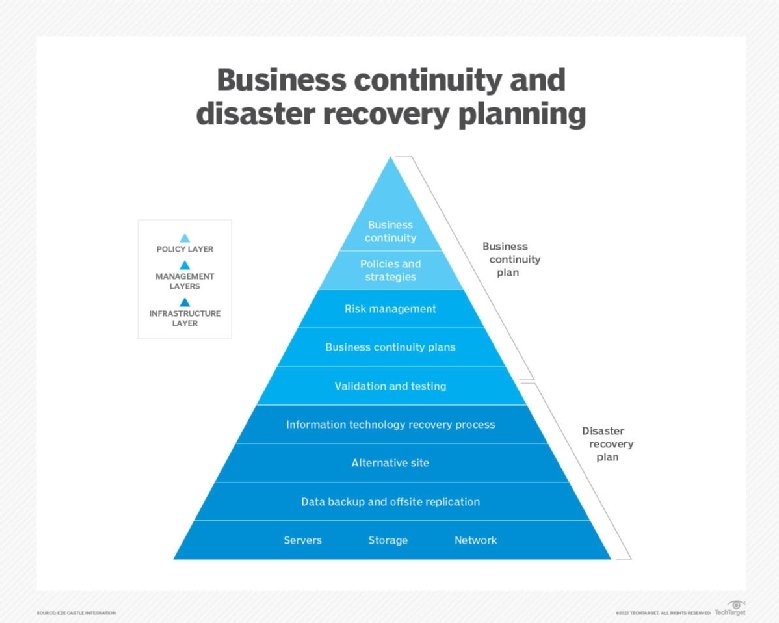 Write

a Comment
Fields with * are required